Day 2 - June 2nd.
Miles on bike: 1338
HRS on bike: 55.1
We woke up to a beautiful sunny morning at Bog Hot Springs, packed up the bikes and prepared for another awesome day of riding!
Steam off the springs
Camp.
I found this little surprise under my tent...at least it wasn't in my tent!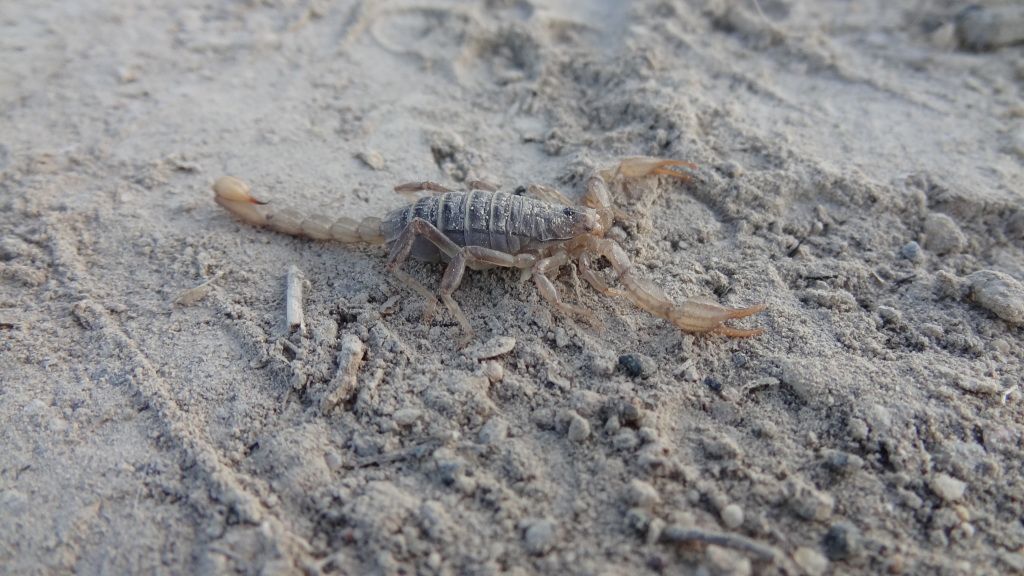 Trever rode up to see the source of the spring....notice the one sandal lol.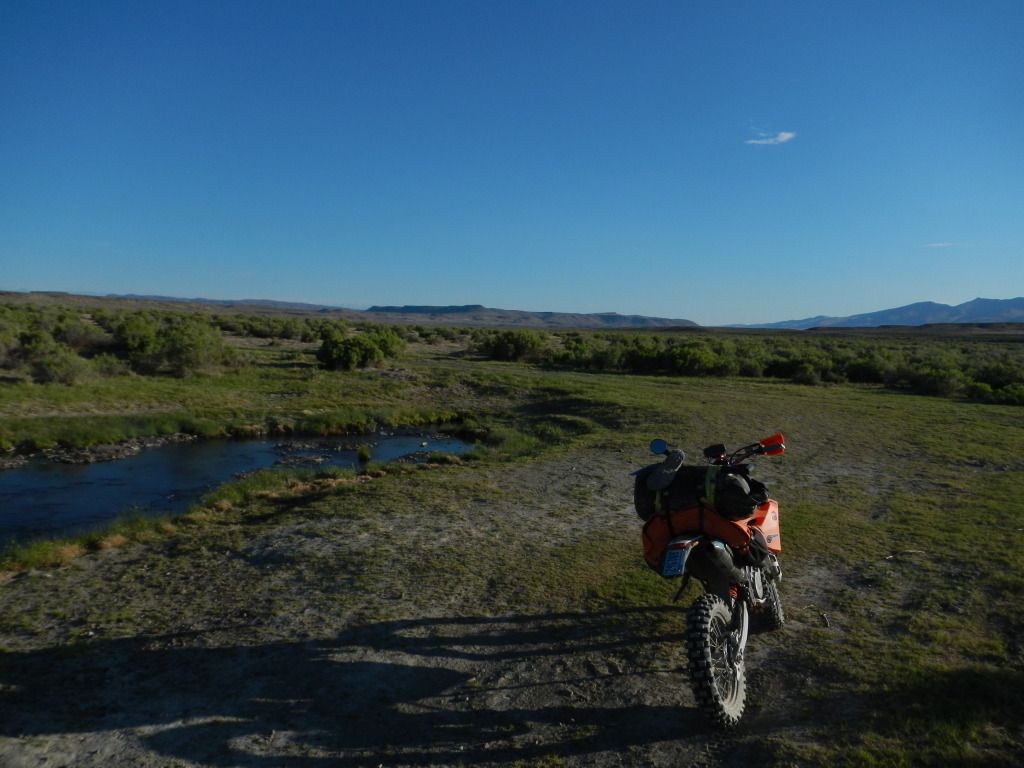 We left Bog and headed to Denio Junction one last time to top up on fuel, eat a good breakfast and ditch the shovel at the truck.
Trever lost a sandal on the way back from the bomber so he will also pick up a extra pair that I had in my gear bag.
Trever and his one remaining sandal lol. (video snap shot...sorry about the quality).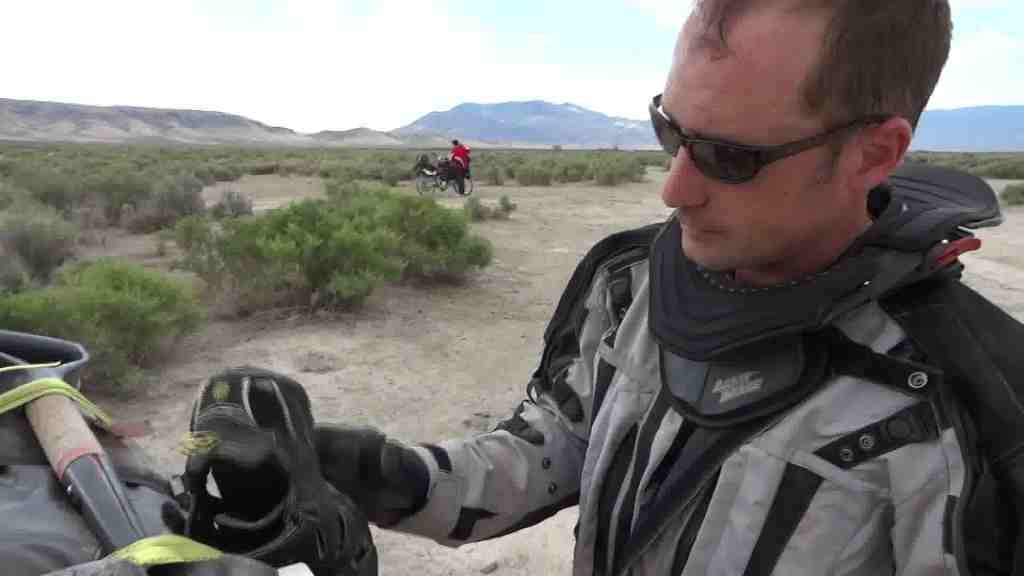 A day of incredible riding! We departed Denio Junction and headed north into Oregon, we will then angle back into NV.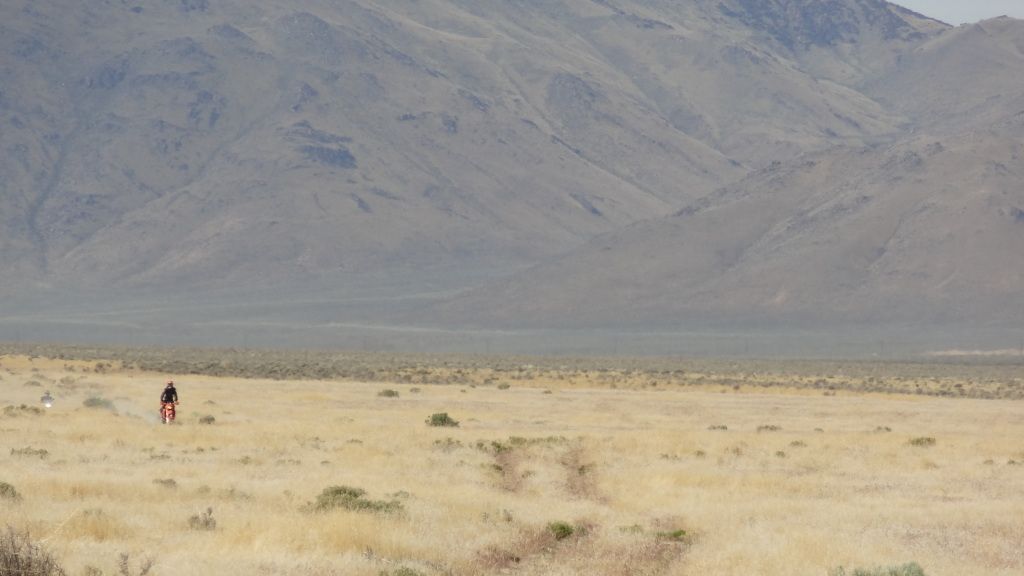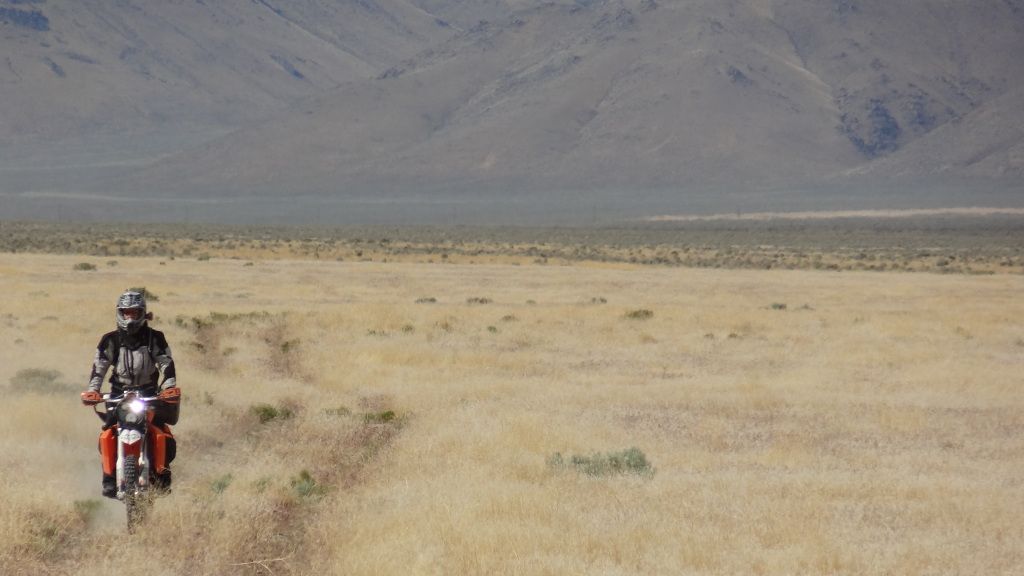 Orange Coolaid in the Desert.
Here they come.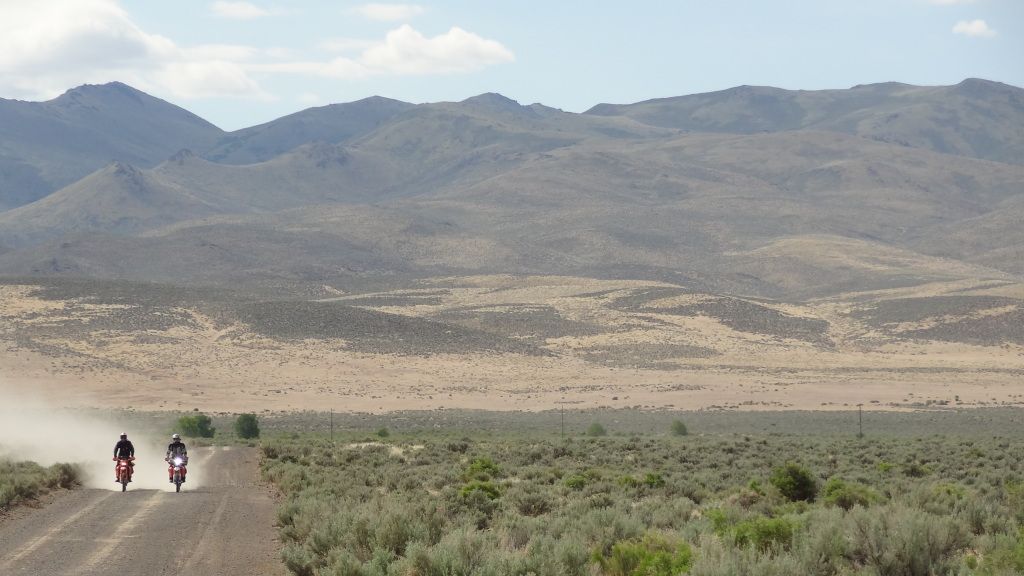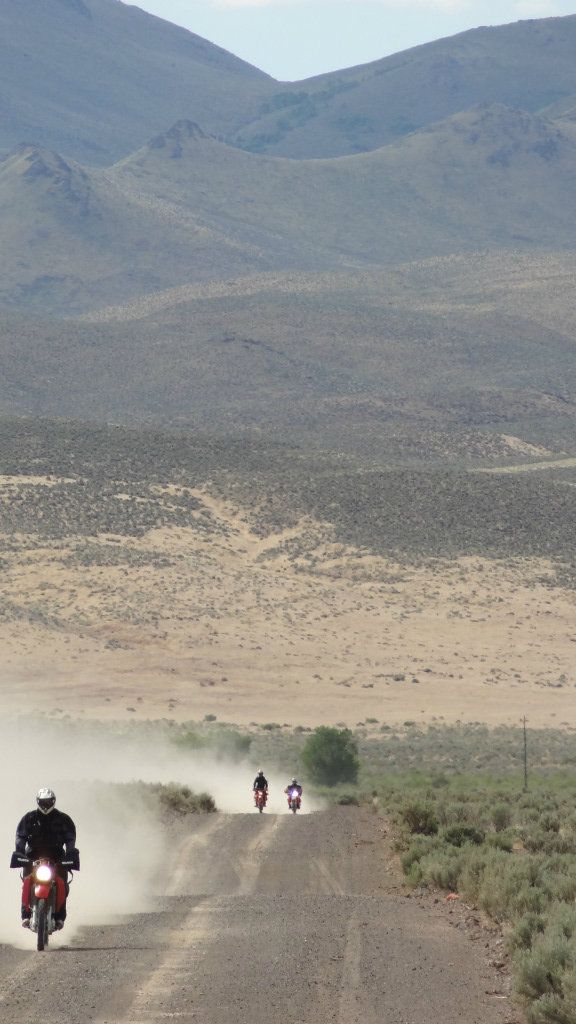 We come across a cool old ranch and stop to check it out.
The Ranch
Someone had some skill working with rock. Amazing.
What's left of a wooden wagon.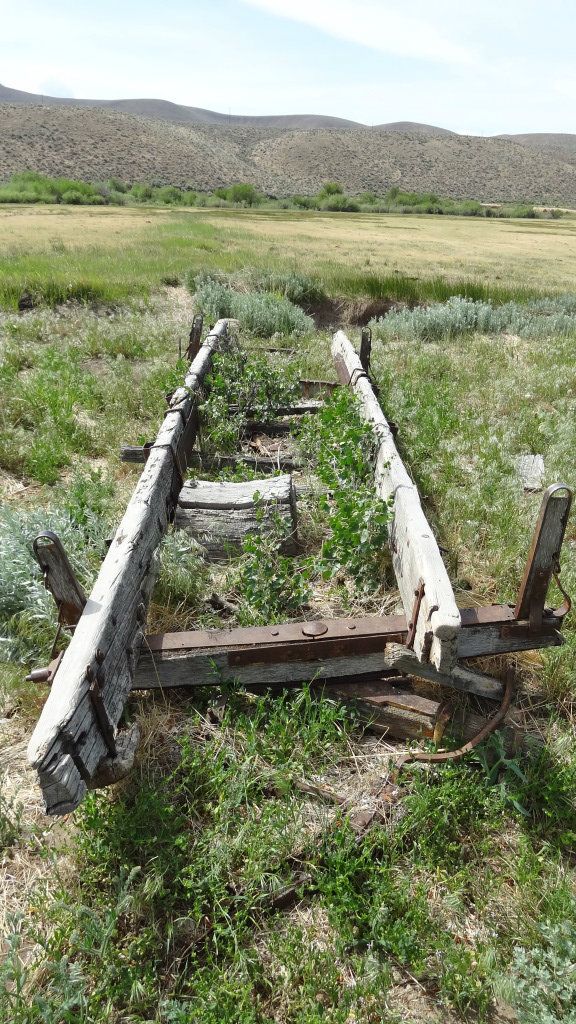 Andy taking a ride.
A little further up the road was another old abandoned building....wonder what the story behind this one is?
A home brew implement along the trail. Looks like it was maybe used for ??. The axle on top looked like it was used to raise/lower something.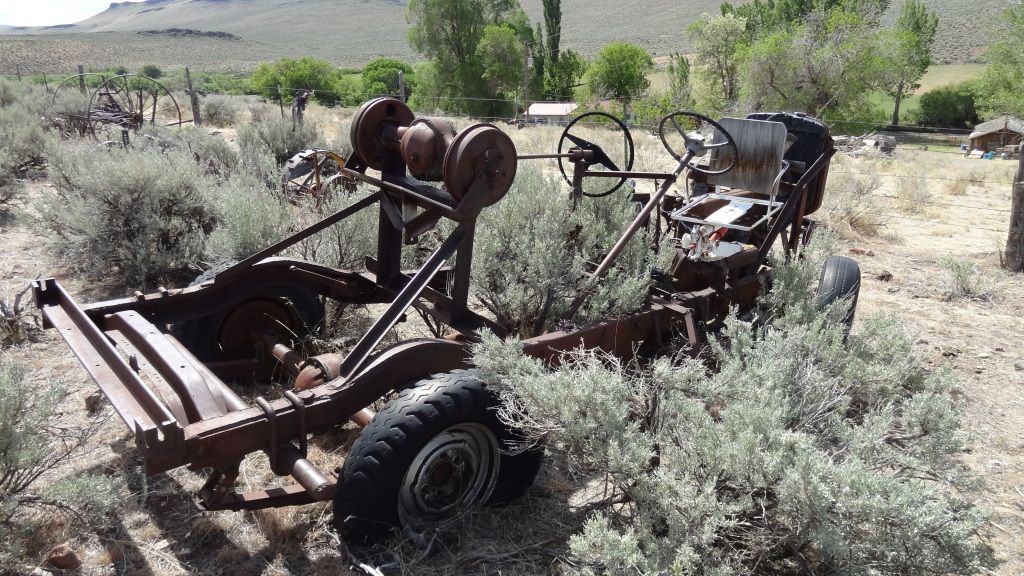 Back on the trail.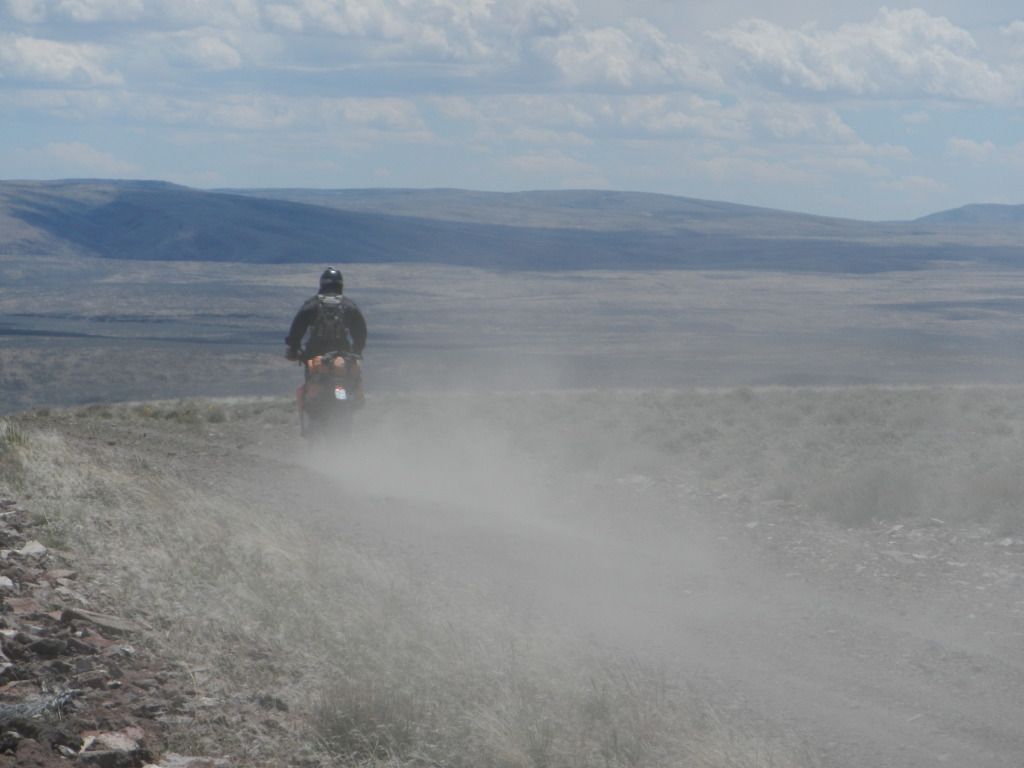 We stop on a hill to soak in the view.
The snow covered Steen's and Alvord Desert in the background.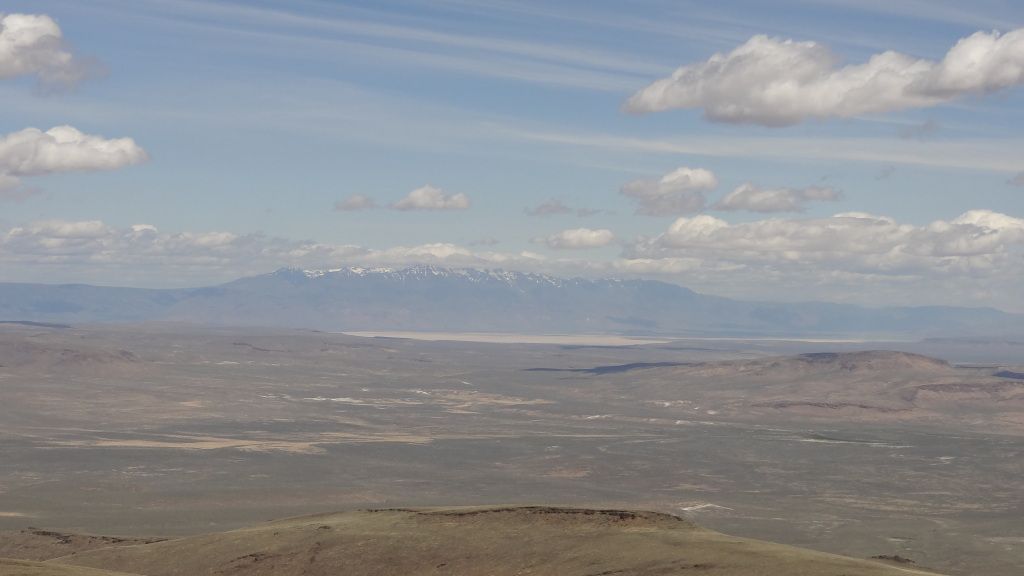 My ugly mug :-)
The view in the glasses.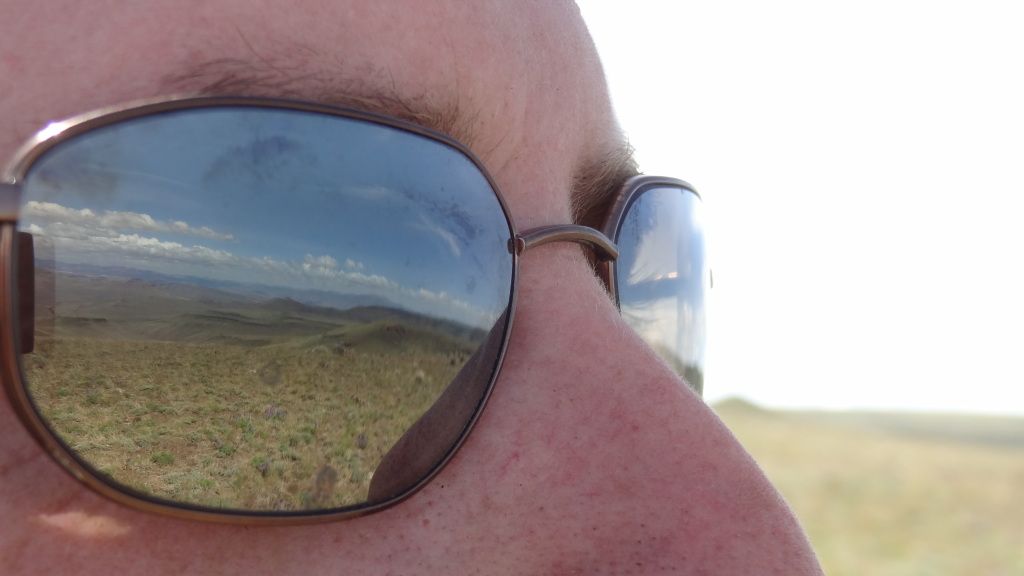 Andy found out his new camera doesn't charge the battery via USB.....he's now using the Droid.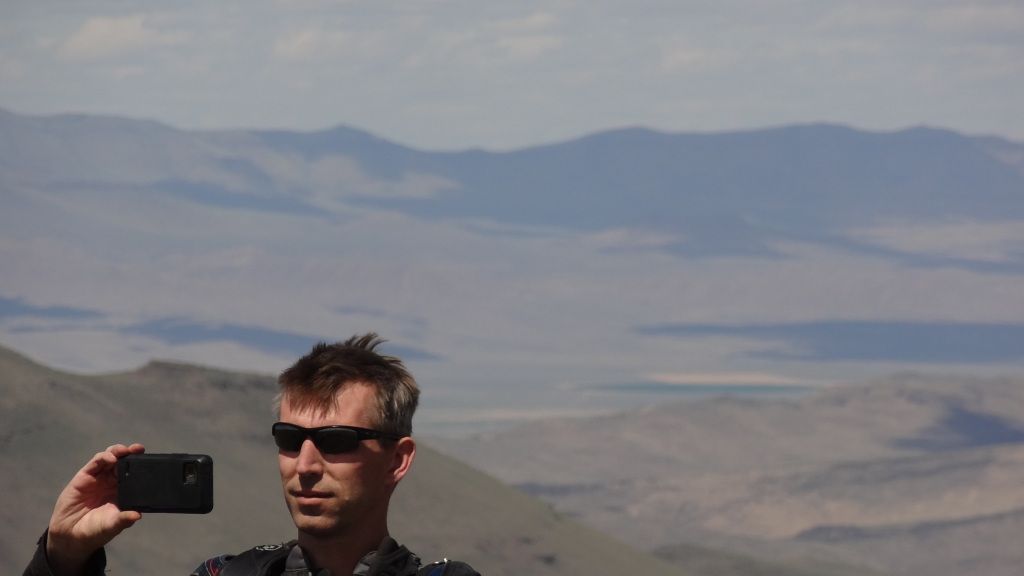 Alan enjoying the view....LOL.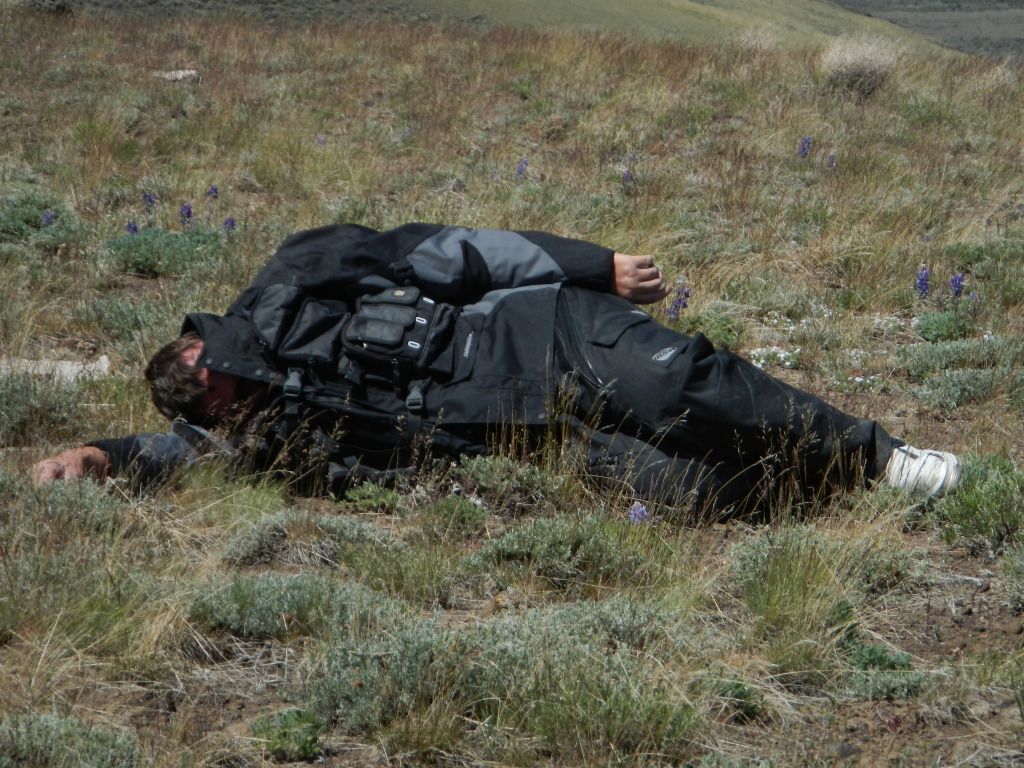 Back on the trail again.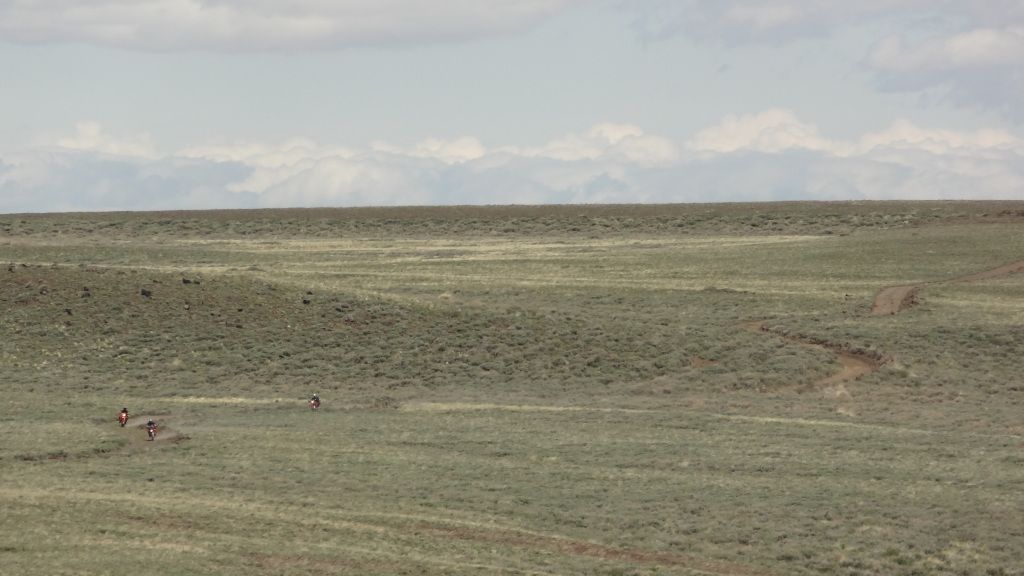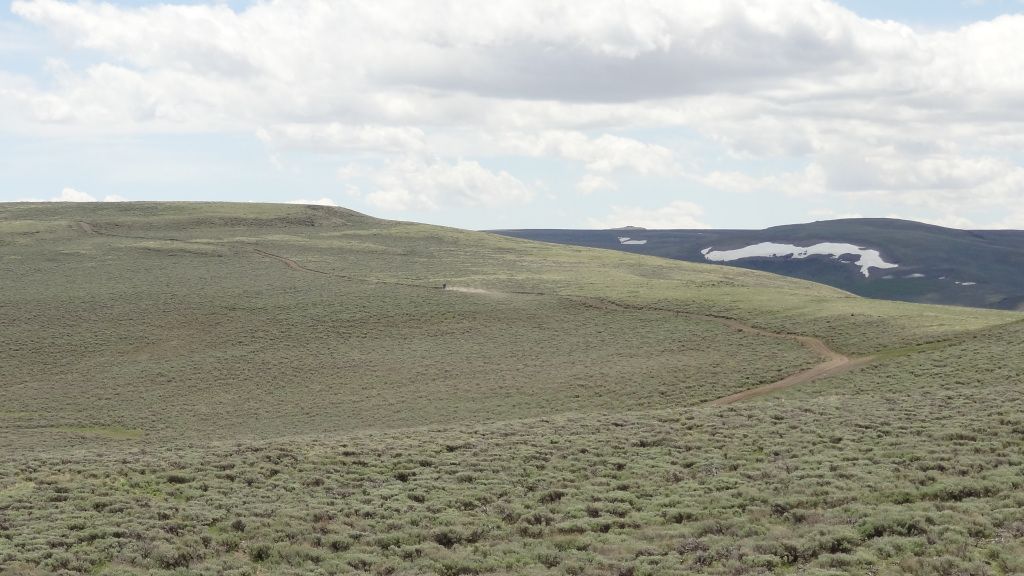 The Views were incredible...no matter how much you looked you couldn't soak them all in.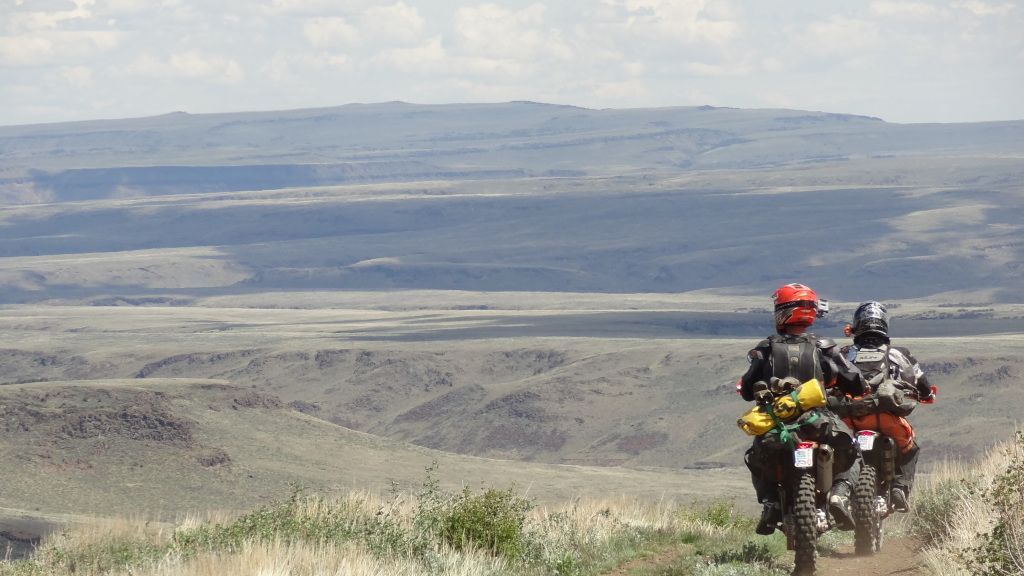 Andy getting ready to snap some pictures as the bikes roll by.
Stopping for a snack.
And back on the trail.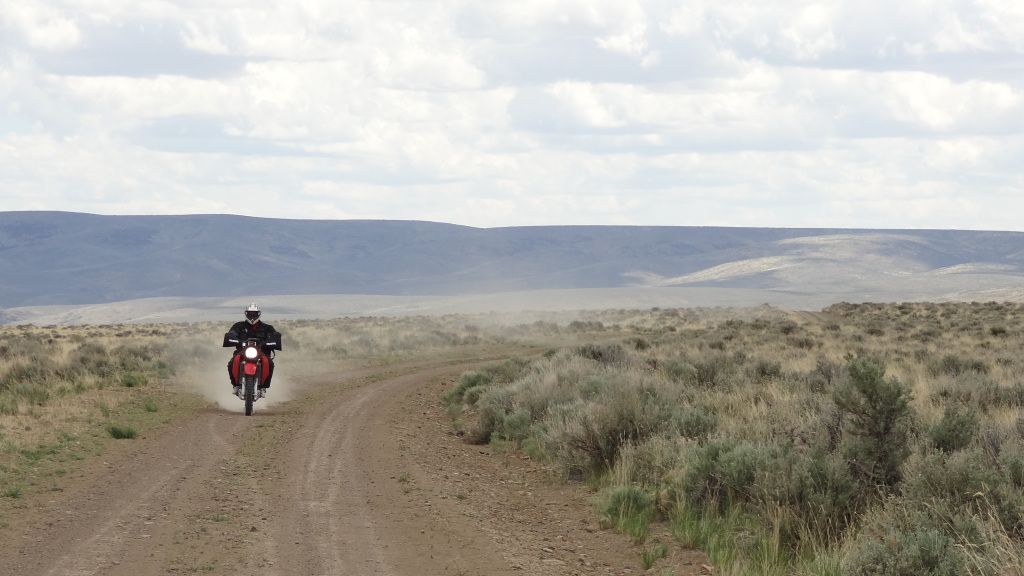 Soon we come across an abandoned mine with huge tailing piles. There is a large mill works here, I love checking out sites like this. I would love to see pictures of it back in it's hay day.
I roll up to the mine and wait for the others.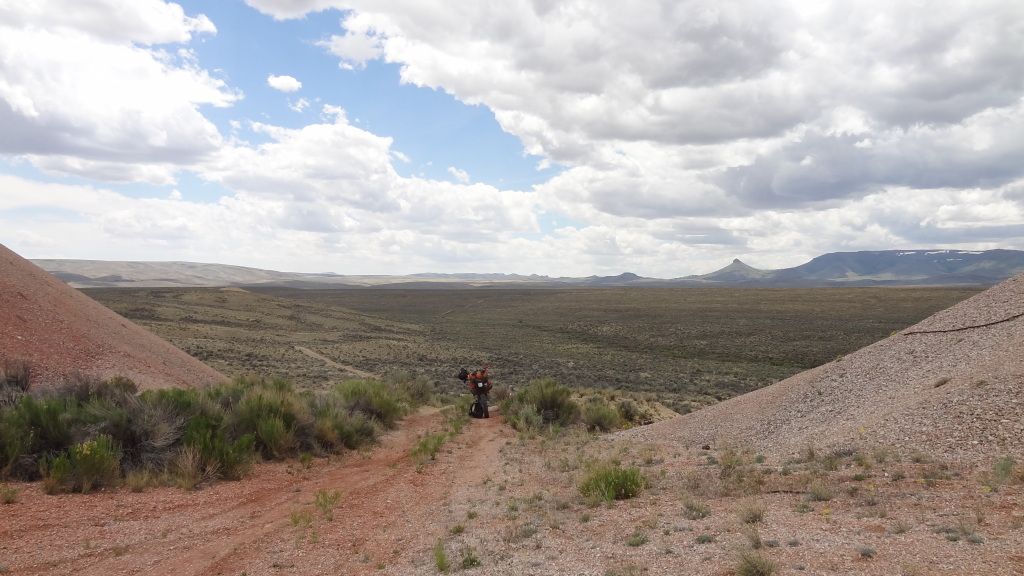 Andy pulling up to the site.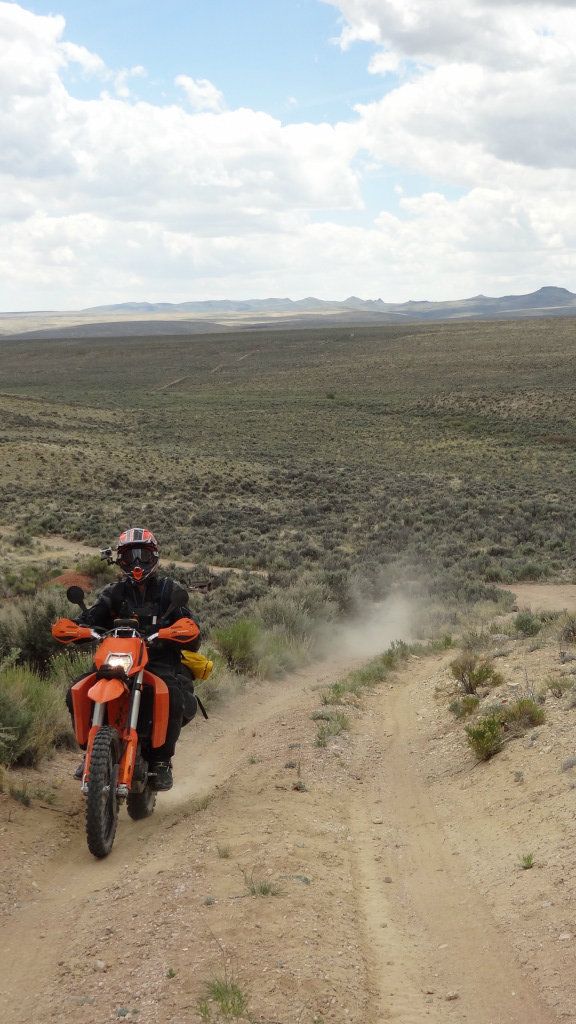 Alan rides up to the top of the tailing pile.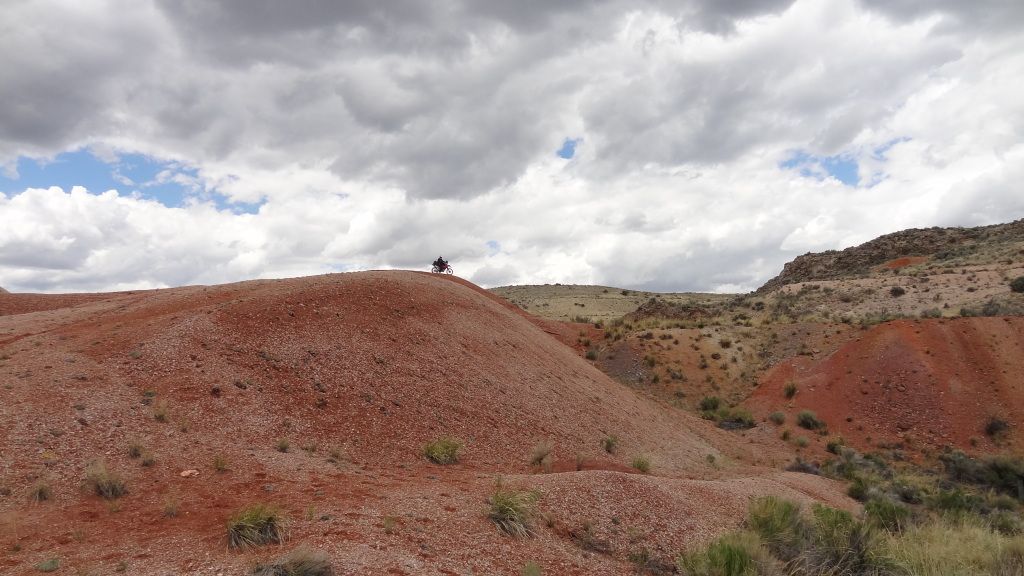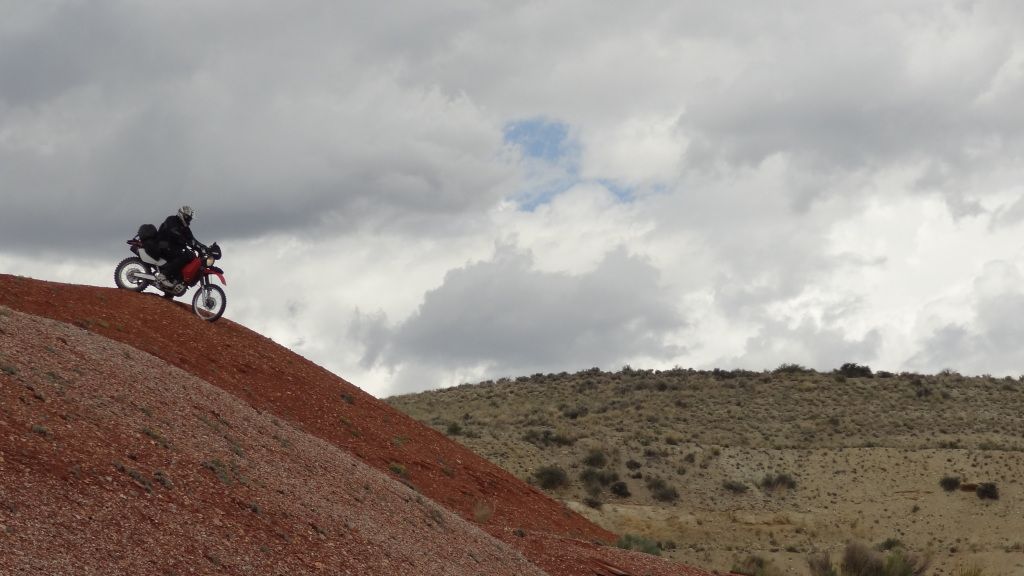 We hop off the bikes and check out the site. The mine is called the
Opalite Mine and was used to produce Mercury. The Opalite Mine produced
a total of 12,367 flasks of mercury (a flask
is equivalent to 76 pounds) between 1927 and 1961, with the vast
majority of the production occurring before 1943.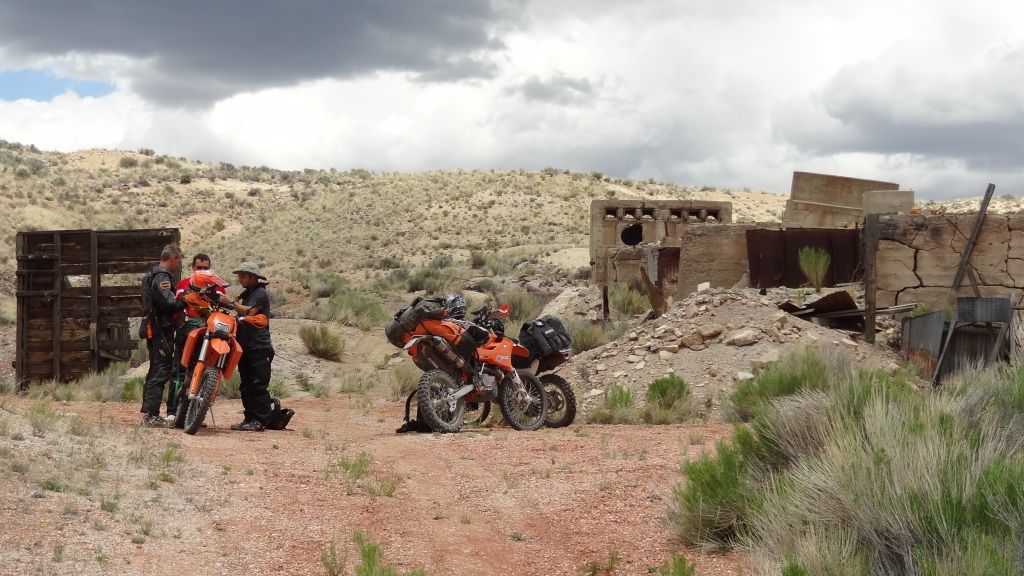 It had to be a big undertaking back in the day to haul all this concrete this far out in the desert.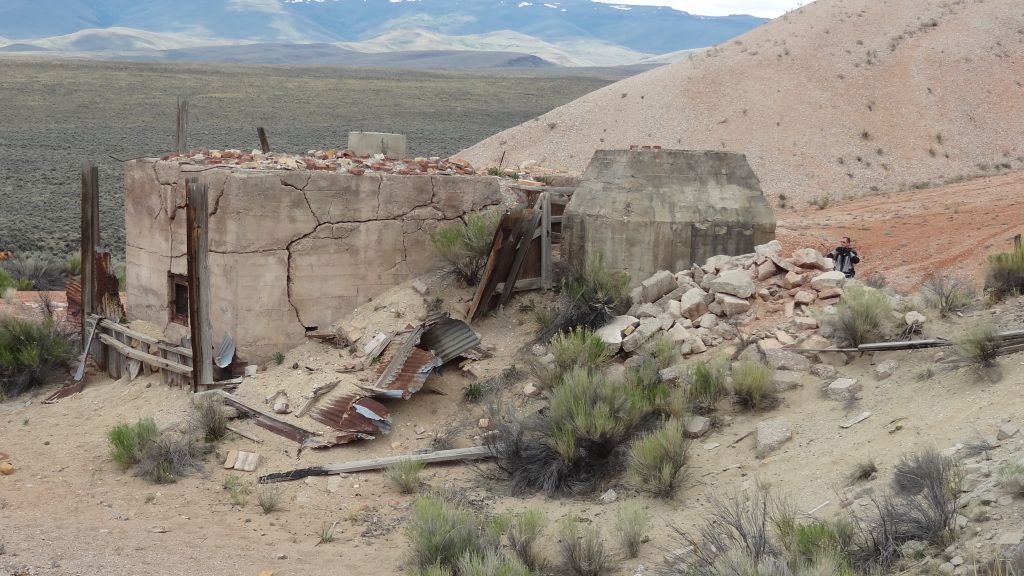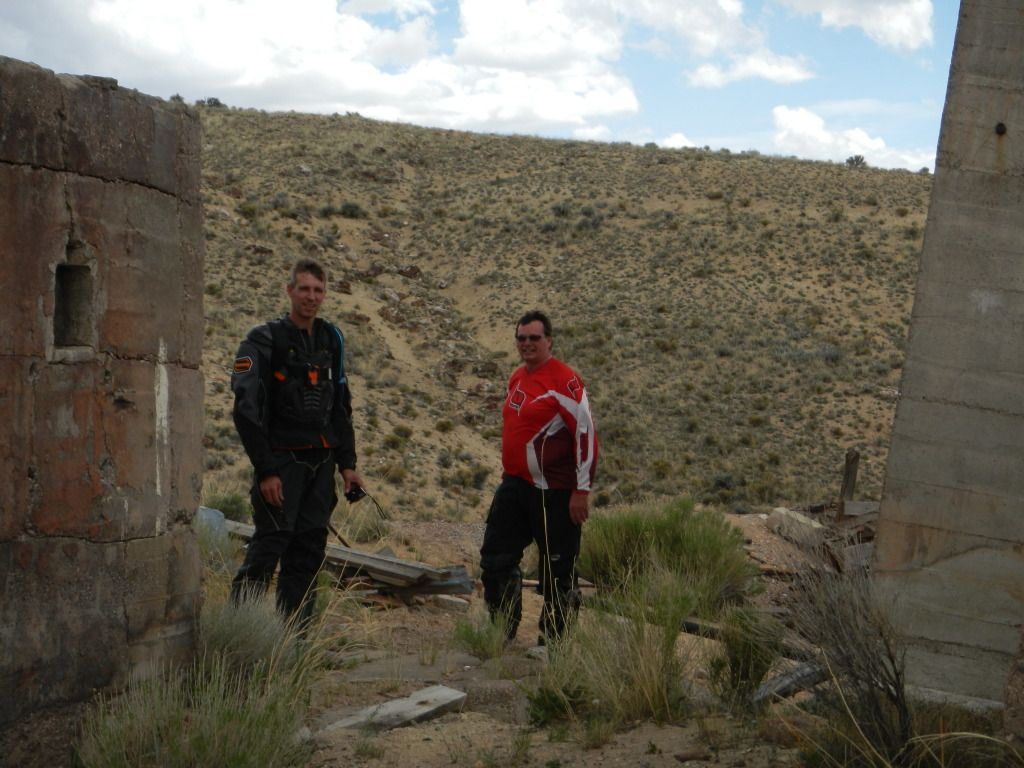 Lots of relics litter the site.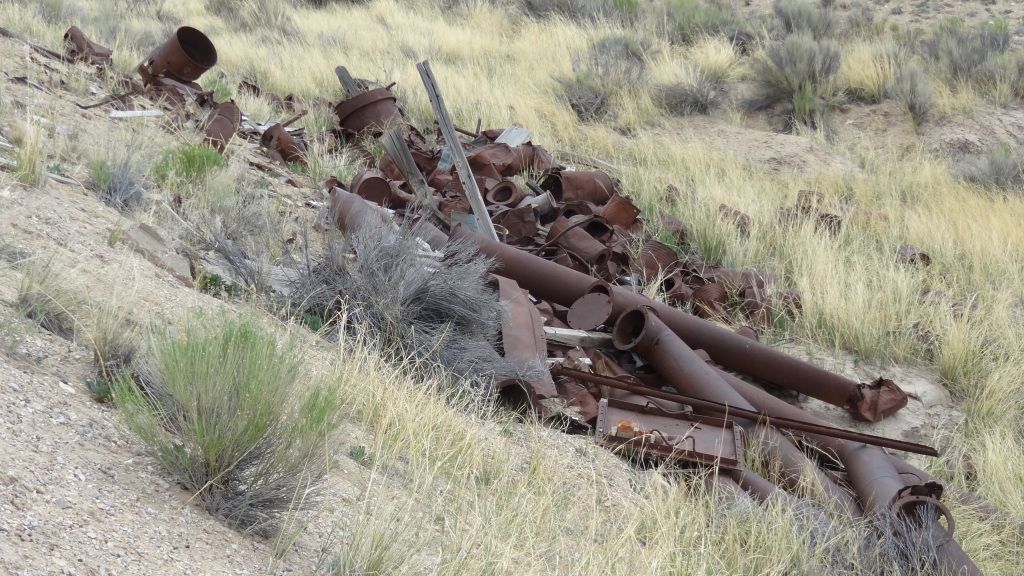 A audit close to the mill site...I'm sure with tailing piles this big there are more audits in the area.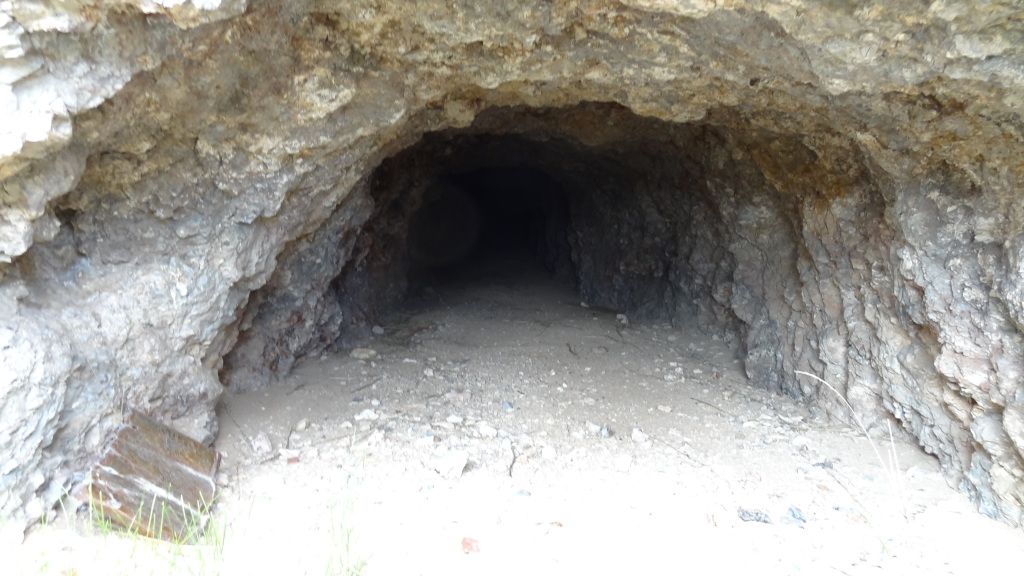 At the base of the mining operation lie a couple old cars. I'm amazed that it's still preserved this well, must not be a lot of drunks with guns out here. I wonder when the last time it moved under it's own power was.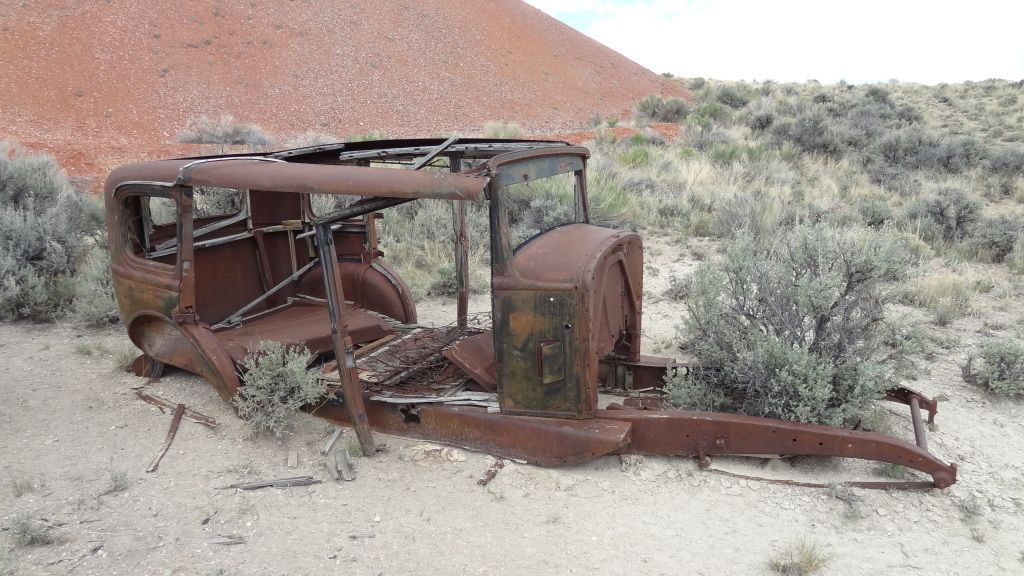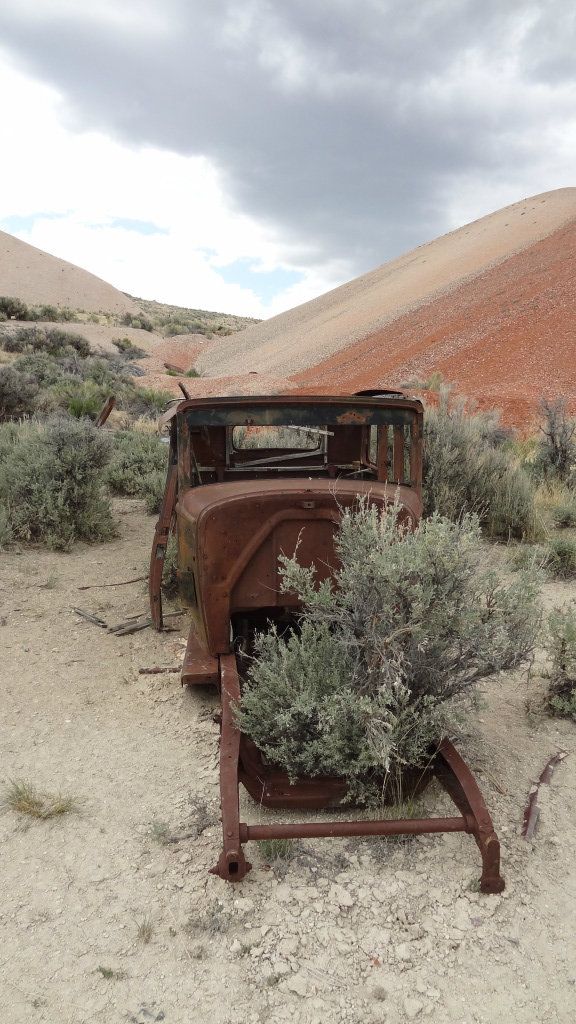 A tire from the car.....amazing stuff like this last's this long out here.
Remains of a truck of some sort....I wonder if this truck hauled supplies to the site when they were building the mill?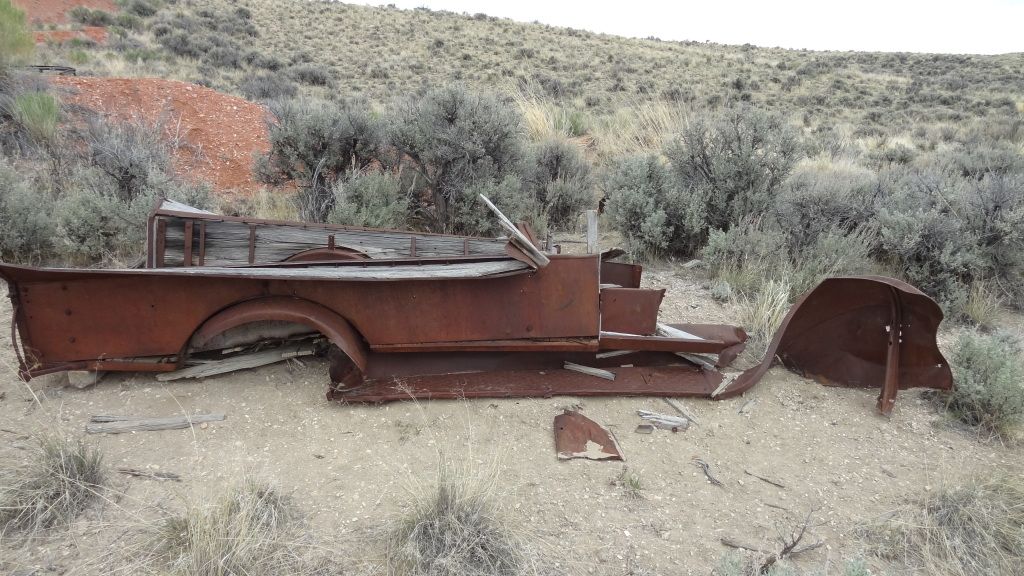 We left the mine site and headed to Mcdermitt, NV for fuel and lunch. After fueling up we found the Snack Stop and stopped for a burger. I filled my hydration pack up with water and put a 1.5 liter bottle in my pack as well, I had been out of water since we left camp this morning and I was really thirsty at this point!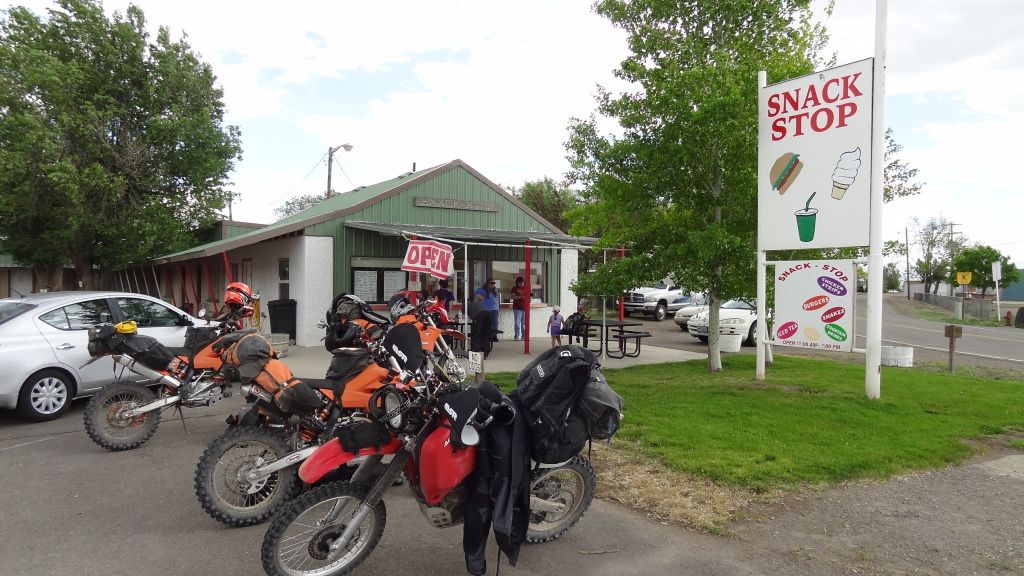 We had good cell service here so we called Mark to find out where he was at. He was getting ready to leave home (still 9 hrs away) and would watch our SPOT tracks and try to intersect us some where. To save time he would drive his truck as close to us as he could get then unload the bike and catch up with us.
Here Trever is talking to Mark and trying to figure out approx where we will meet up with him.
Trever hamming it up for the camera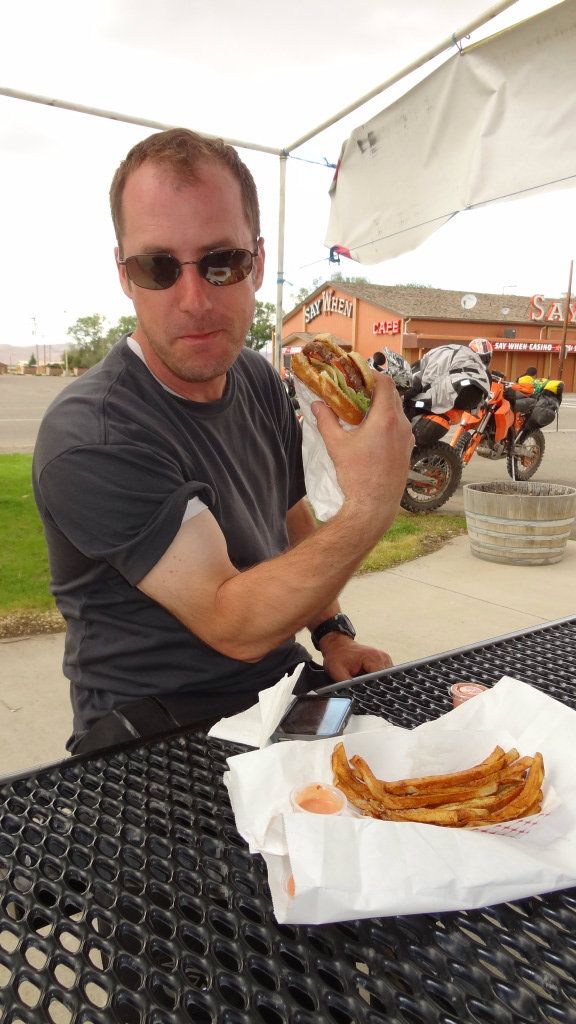 We left Mcdermitt with full stomachs and full tanks of fuel.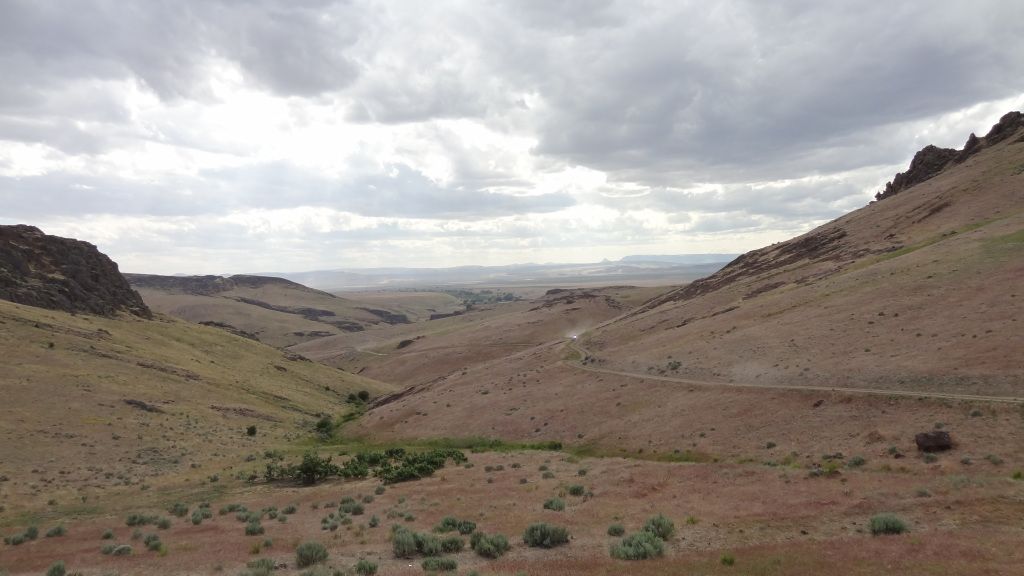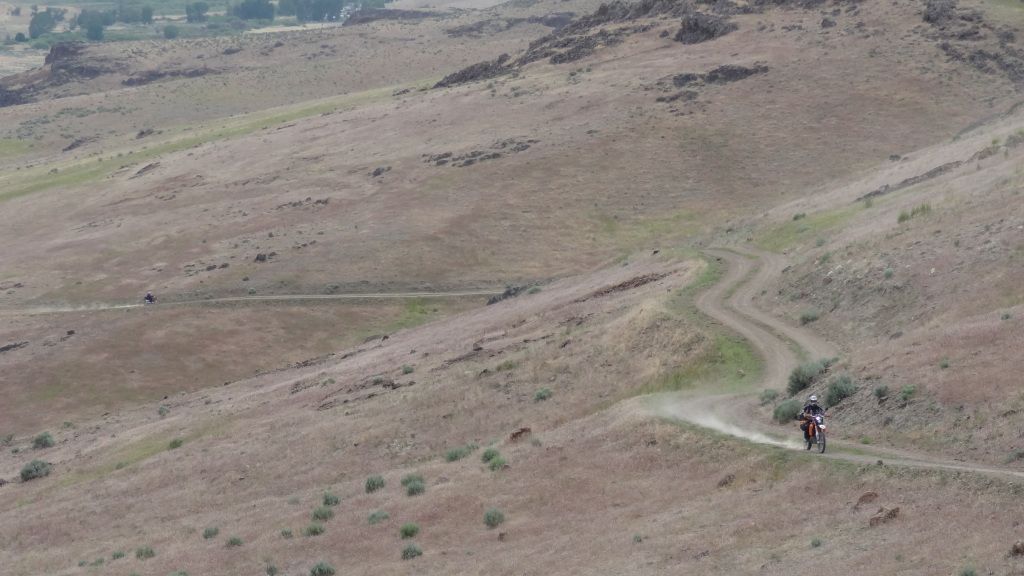 One of the many stream crossings on the trip.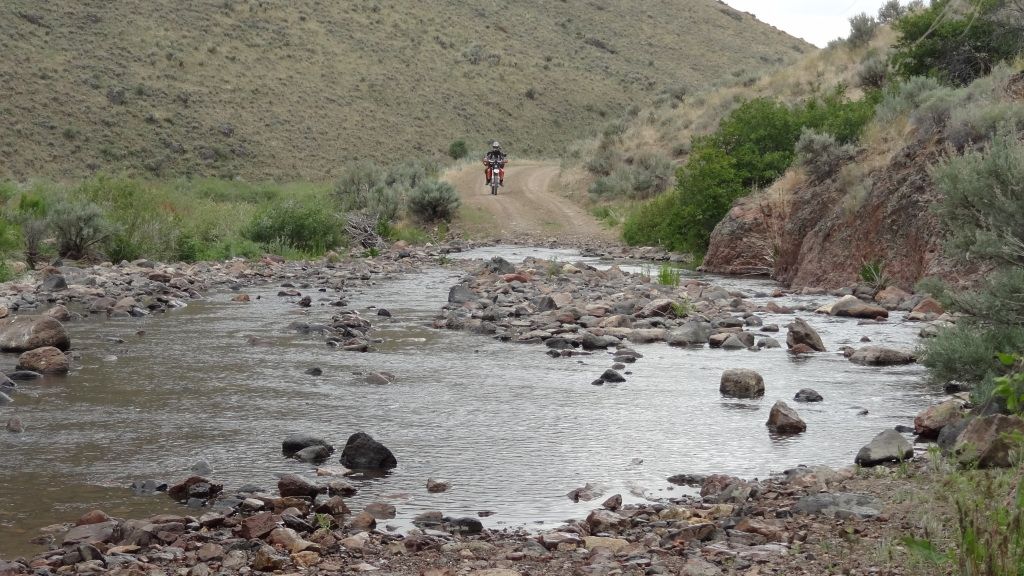 Shortly after one stream crossing Alan got stuck in some large sage brush....luckily he was trapped just long enough for me to get my camera out :-)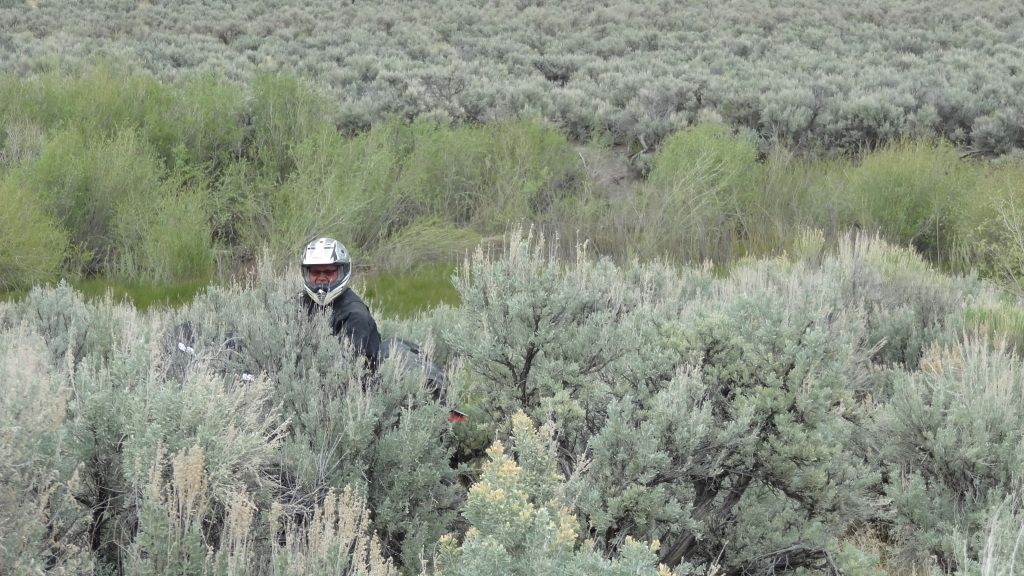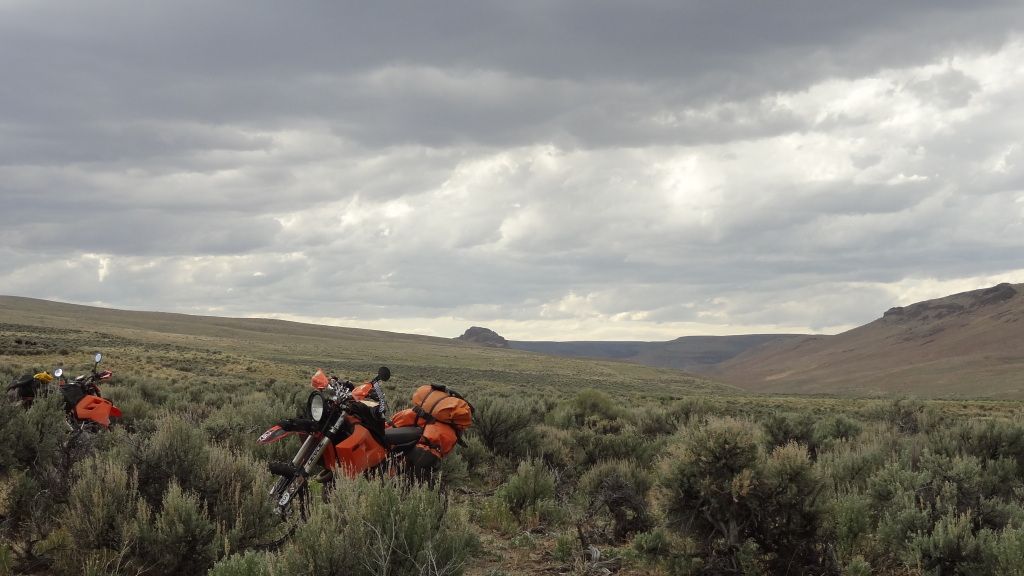 Alan on the BRP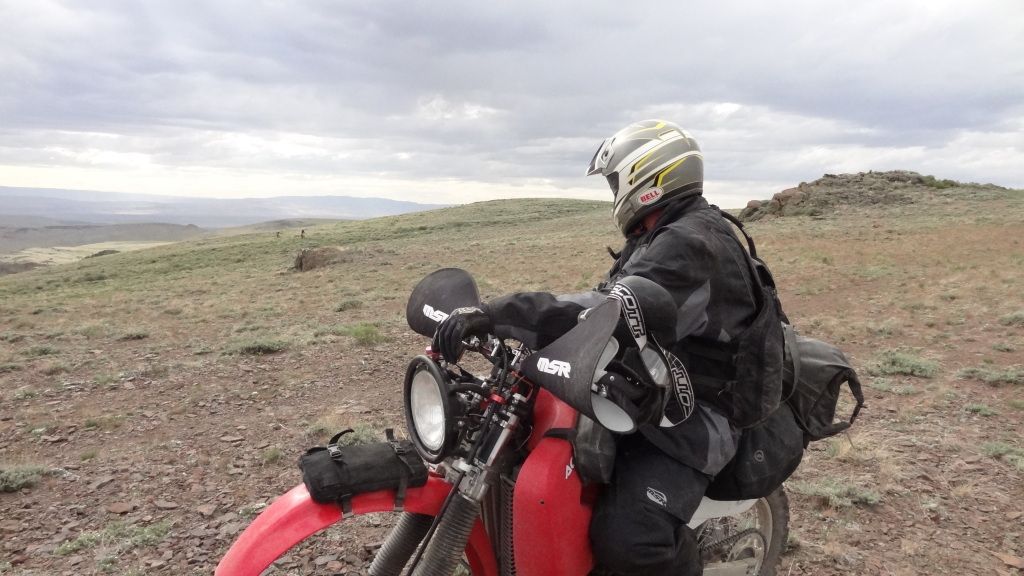 Another stop for a photo op. :-)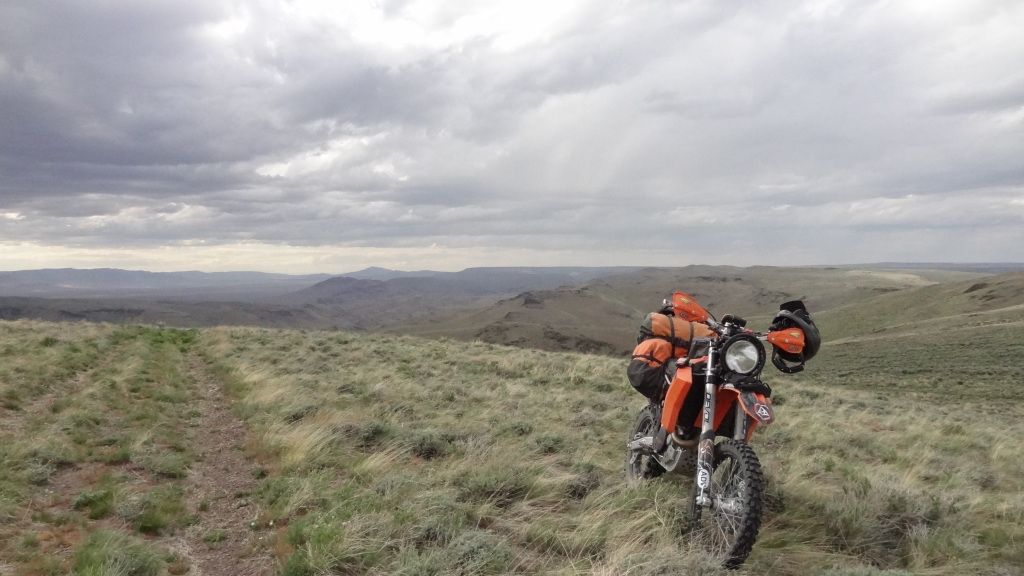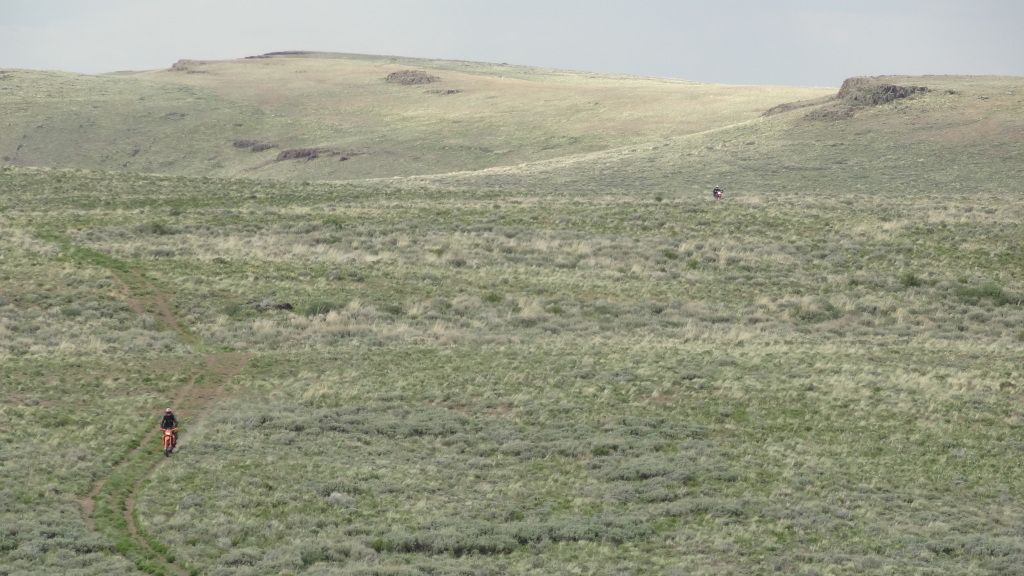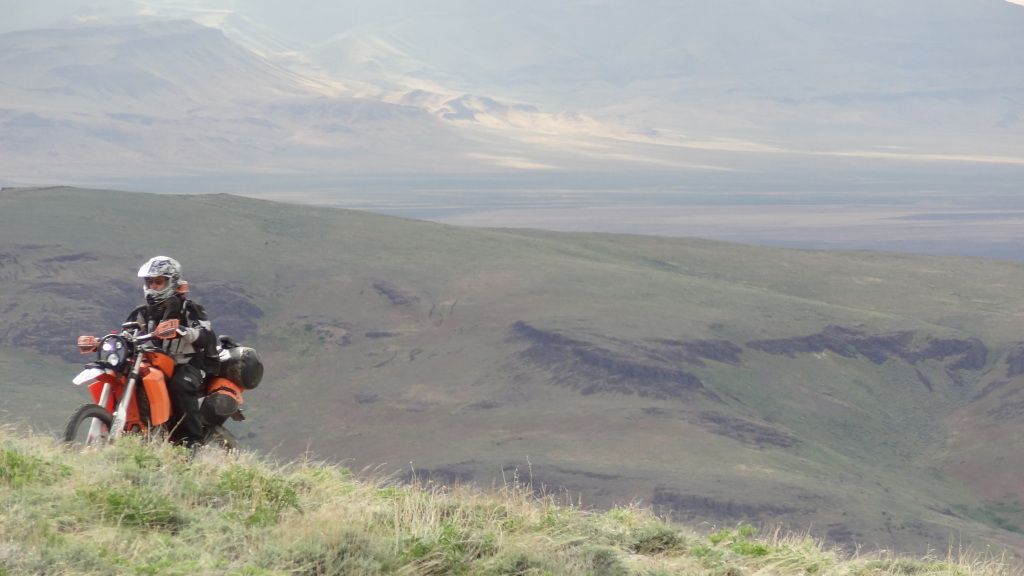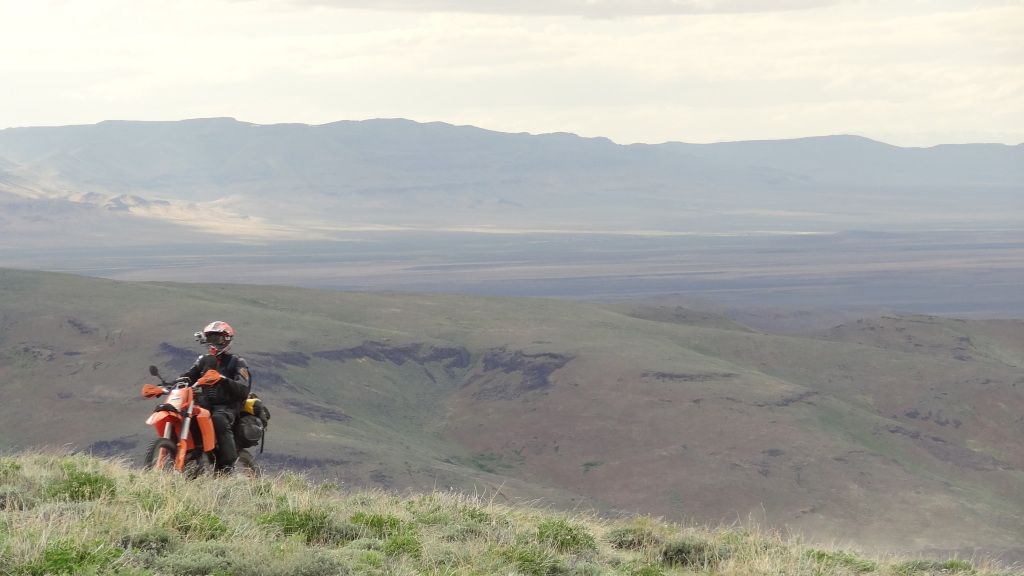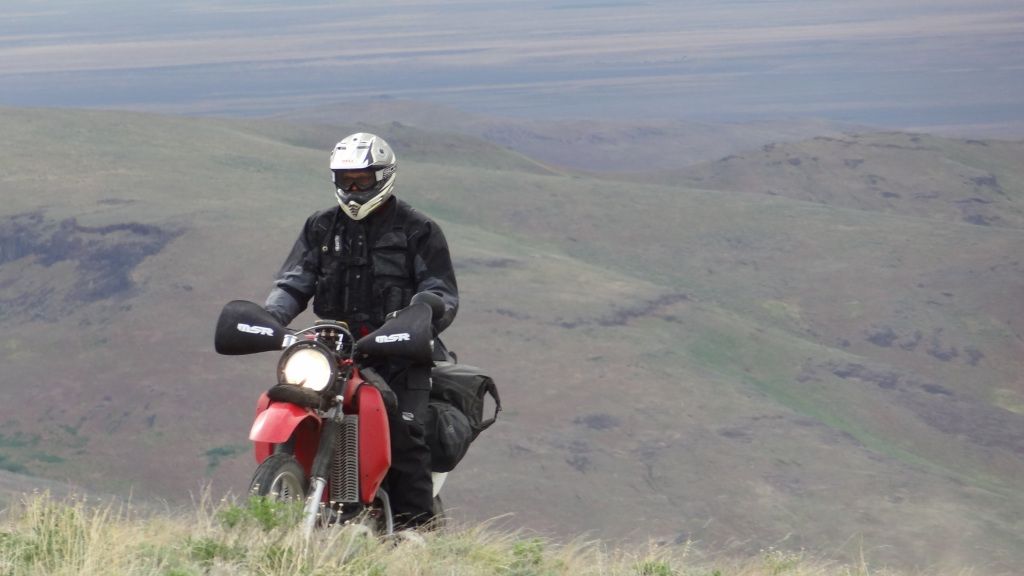 A little further up the trail we come across another old abandoned ranch. A lot of work went into building these old houses. Who lived here? What a hard life it must have been.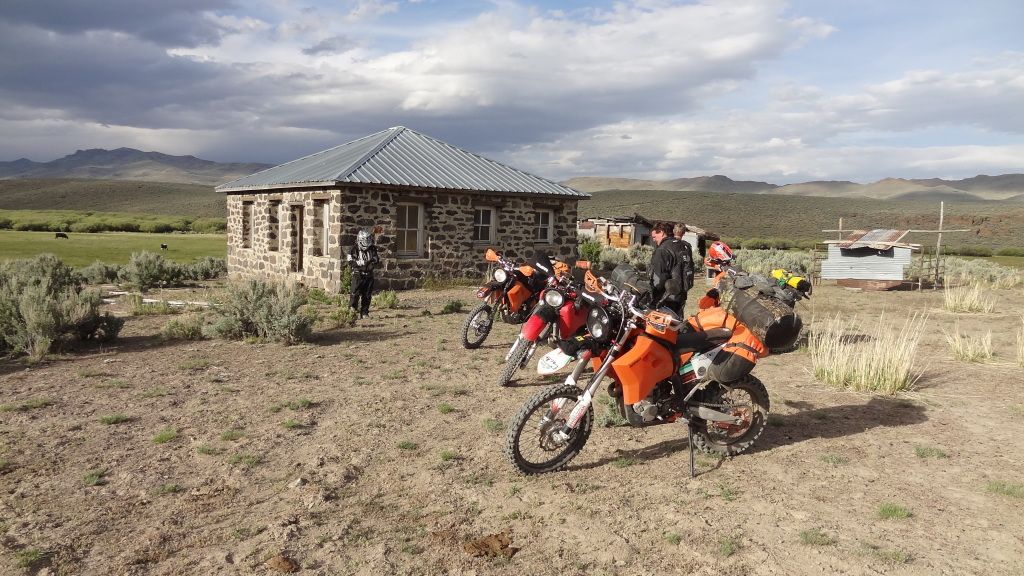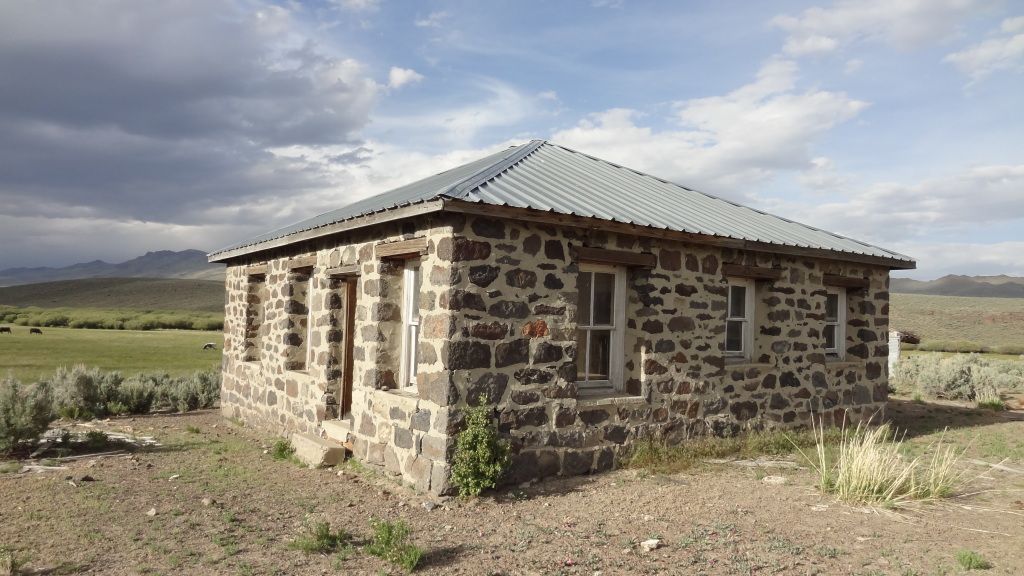 The windows haven't even been broken out....not many teen age derelicts out this far I guess lol.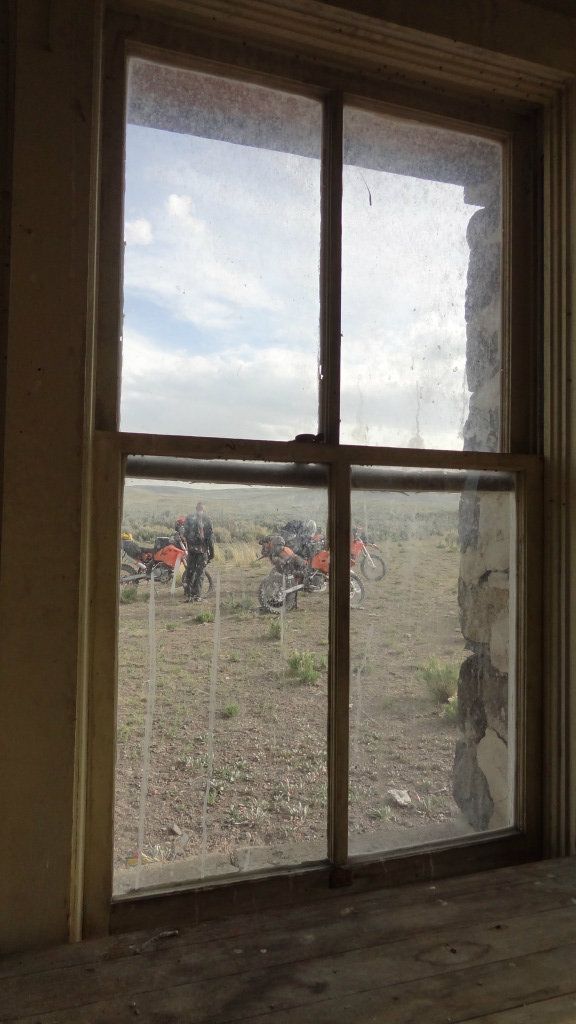 Ready to light.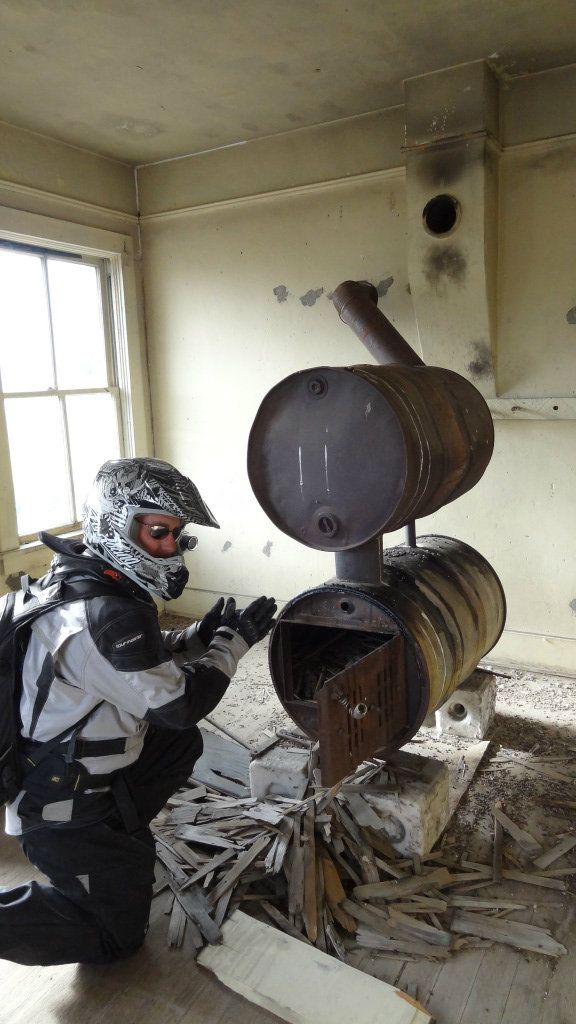 Needs a little remodeling.
The rare two hole outhouse :-)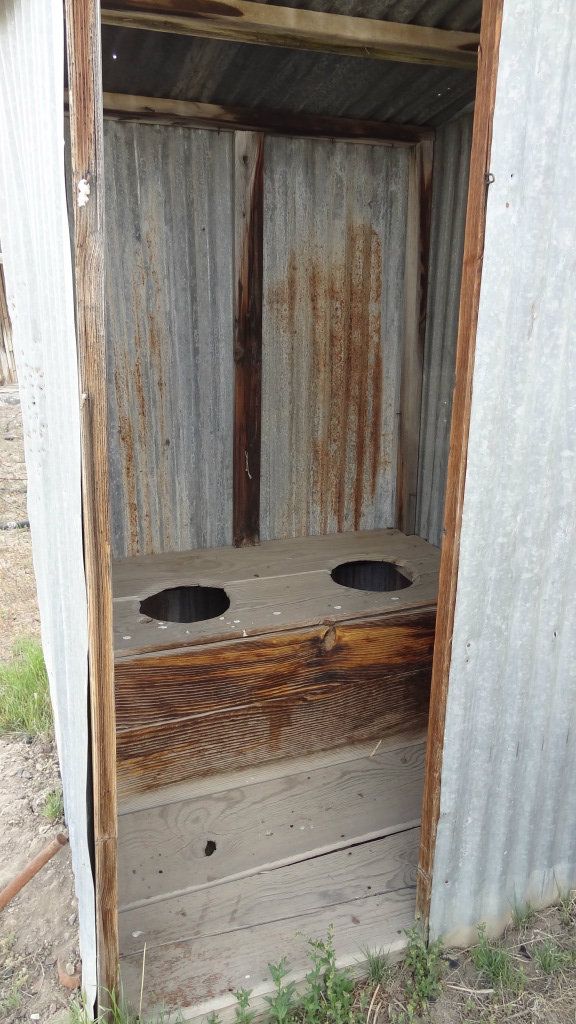 Andy trying it out
After leaving the ranch we headed to our destination for the night....another Hot Springs. We arrived at "The" Hot Springs shortly before dark, set up camp and started the routine of making dinner etc.
The Source...very cool formations.
The hot water is piped down to a tub by the stream.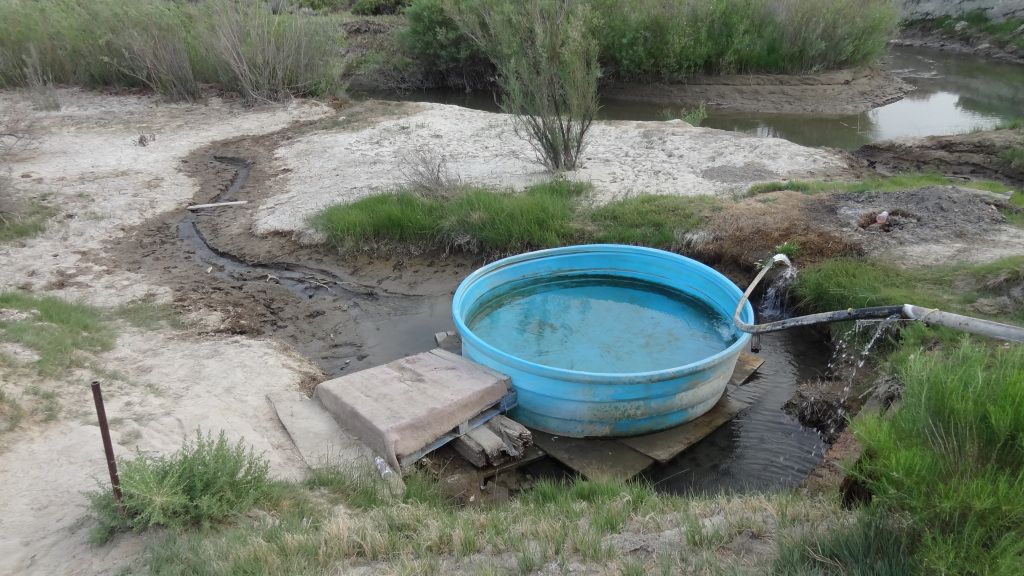 Camp for the night.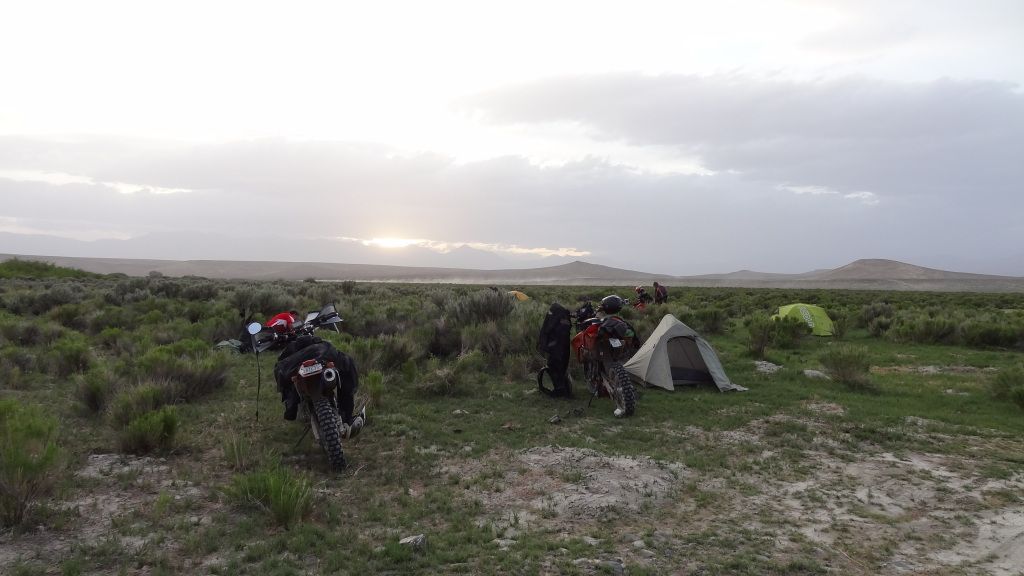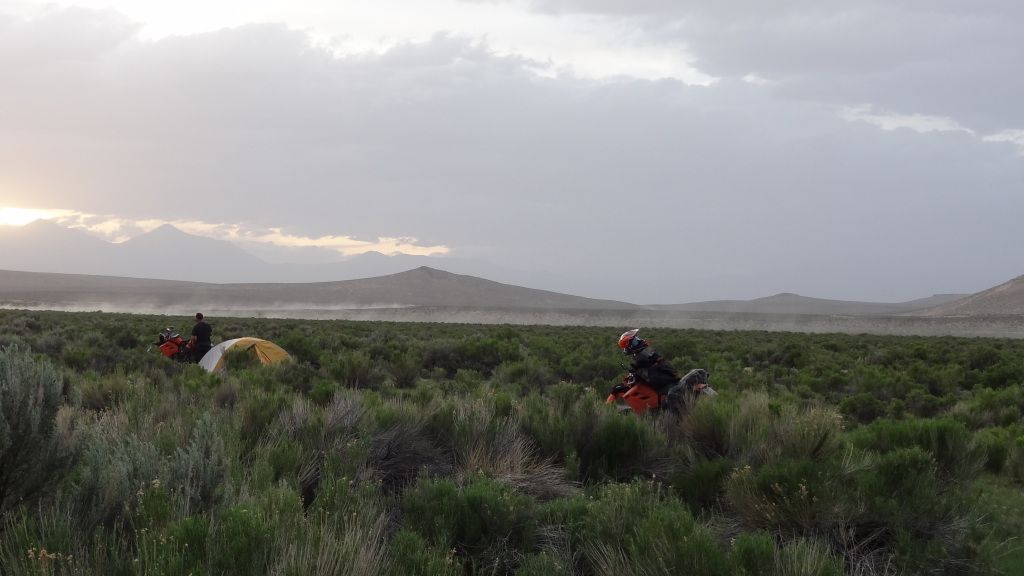 Alan setting up his tent
Andy found that his chest protector and backpack provided a bad rub point on his collar bone...he was left with a egg sized sore....ouch! He will find a way to mod his gear in the am.
And a beautiful sunset to top off an awesome day!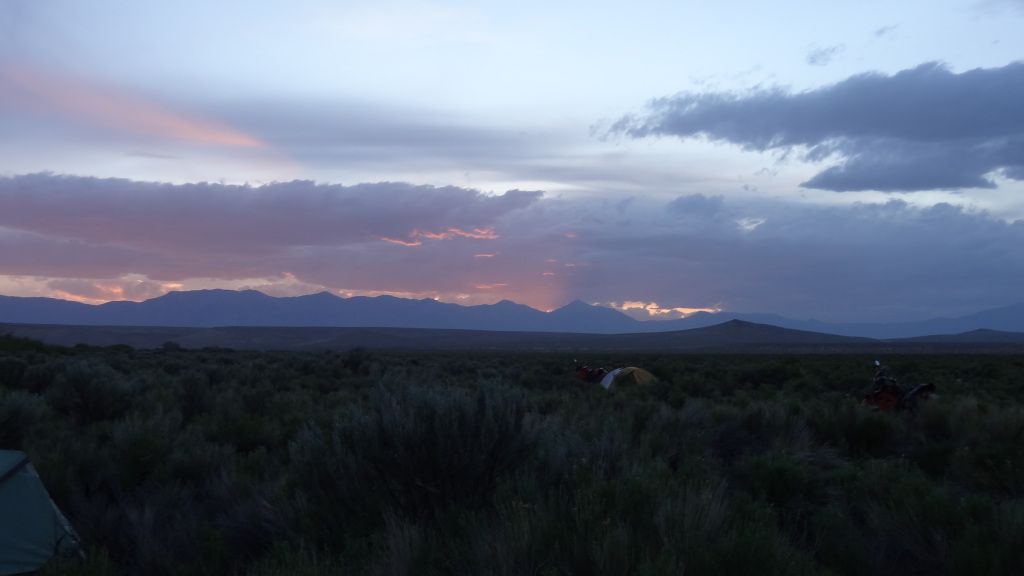 End Day 2
Miles on Bike: 1515
Hrs on Bike: 60.7
LOTS MORE TO COME.....
Hodakaguy